WHEN WILL MY ORDER BE SHIPPED?
We aim at shipping all orders that are confirmed before 4pm (CET) on the same day. Orders placed after that will be shipped on the following business day.
HOW DOES YOUR SHIPPING COST?
Standard shipping is $7 USD
Express shipping is $65 USD
WHEN CAN I EXPECT MY ORDER?
Orders are typically processed within 1-2 business days (orders placed after 1pm PST are processed the next business day). and have the below estimated delivery times. Please note business days exclude weekends and holidays.

North America: 
United States: 8-14business days
Canada: 7-14 business days
Europe 5-10 business days
Australia 13- 20 business days
Asia 5-7 business day

Due to COVID-19, please note that delivery times may take an additional 3-5 business days to deliver and in some cases may take longer. We appreciate your patience and understanding during this time.
WHAT FORMS OF PAYMENT DO YOU ACCEPT?
We accept Visa, Mastercard, American express, Paypal , Googlepay and Applepay.
I RECEIVED MY ORDER BUT IT IS EITHER FAULTY/DAMAGED, INCOMPLETE OR CONTAINING A WRONG PRODUCT. HOW CAN I GET A REFUND/EXCHANGE?
Please contact Customer Service as soon as you discover that your order is not as you expected. You can write us at itskitdo@gmail.com and we will reply as soon as possible.
If you received a damaged/faulty product please send a picture to Customer Service showing the issue and forward your receipt and/or online order number. We need this information before to process your complaint.
I EXPERIENCE PROBLEMS WITH THE WEBSITE. WHAT CAN I DO?
We apologize for any errors you may experience on our website. Please contact us and we will assist you to our best effort.
WHICH COUNTRIES DO YOU SHIP TO?
We currently ship to the following countries:
Australia
Austria
Belgium
Bulgaria
Canada
China
Croatia
Czech Republic
Denmark (excl. Faroe Islands and Greenland)
Finland (excl. Åland Islands)
France (excl. Corsica, Guadeloupe, French Guiana, Martinique, Réunion, Mayotte, Monaco, Saint Pierre, Wallis and the Futuna Islands,and New Caledonia)
Germany (excl. Island Helgoland, and area of Busingen)
Greece
Hungary
Hong Kong
Ireland
Italy (excl. Campione d'Italia, Livigno, San Marino and Vatican City)
Japan
Lithuania
Luxembourg
Netherlands (excl. Aruba and the territories of the (Dutch) Antilles
Norway (excl. Svalbard)
Poland
Portugal
Romania
Slovakia
Slovenia
South Korea
Spain (excl. Ibiza, Mallorca, Menorca, Andorra, Canary Islands, Ceuta and Melilla)
Sweden
Switzerland
United Kingdom (excl. Isle of Man, Isles of Scilly, Channel Islands, Shetland Islands, Jersey, Guernsey and Gibraltar)
I WORK FOR A PUBLICATION AND WOULD LIKE TO KNOW MORE ABOUT KITDO. WHO SHOULD I CONTACT?
Send us an email at itskitdo@gmail.com. We're more than happy to answer any questions you have.
I am a creator and would like to review your products. Who should I contact?
Send us a DM via IG @kitdo_official or email to itskitdo@gmail.com
WHAT STORES ARE YOU AVAILABLE IN?  
We are currently available at:

M+ Museum
CERQULAR USA
Stay tuned for more updates!
"Kitdo redefines the concept of newness by thinking outside the box, reshaping the current norm, and making it for everybody"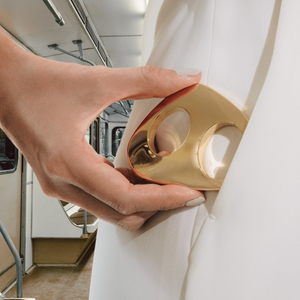 STYLIST APPROVED
Invented and patented by fashion stylist, Denise Ho. Kitdo was an idea that came to her while she was on set with her clients. Safety pins, tape and clips are routinely used to alter the shape of clothes, which can leave holes in the samples.  She began to look for a styling product that would chime with her passion for sustainability.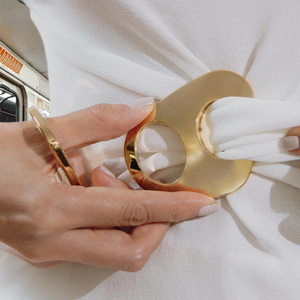 FUN TO USE
Don't mistaken it as a one-hit-wonder, we are not a t-shirt clip! With our specially designed strong-hold magnet inserts, you can bond and loop fabrics any way you want. We love creating tutorials to show you our restyle ways and we will share yours too, so tag us and #KITDOrestyles when you're done.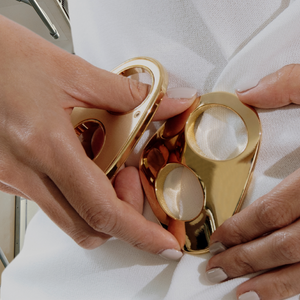 ENDLESS OPTIONS
From band tees and couture gowns to men shirts, nothing is off limits with KITDO. Fashion is all about breaking the rules. Also keep in mind that every look you come up with is yours and you OWN it.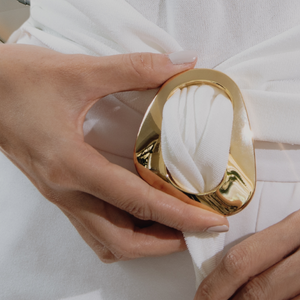 EARTH FRIENDLY
KITDO gives you the same fix as buying new – without compromising the planet. It is individually crafted with conscious production in mind and made with environmentally friendly materials. And yes, that includes the packaging.